Seattle Fall HVAC Maintenance Checklist: Your Complete Guide
November 14, 2023
---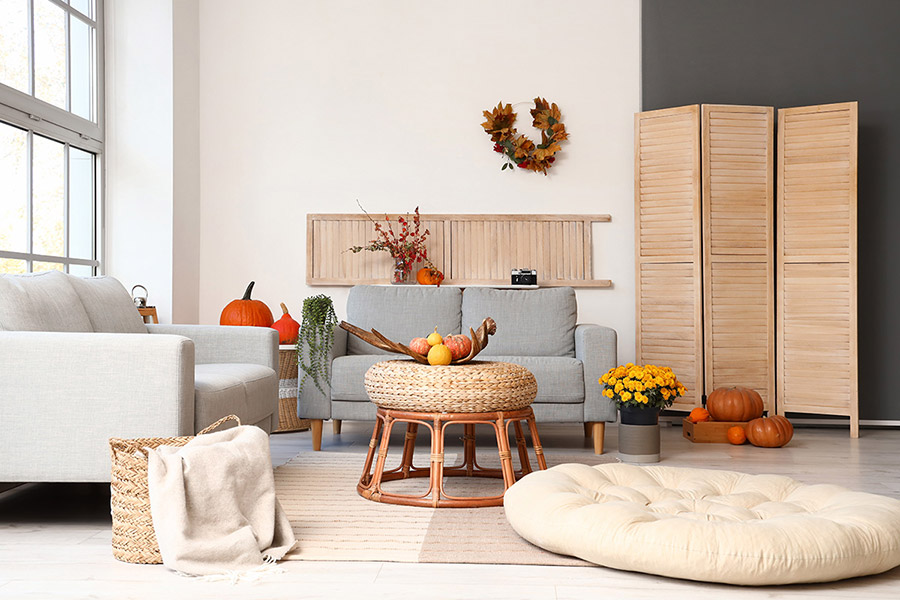 As the leaves start to fall and the air turns crisp, it's the perfect time to ensure your home's HVAC system is up to the challenge of the colder months ahead. Our fall HVAC maintenance checklist is here to guide you through the essential steps that must be taken to ensure your HVAC system remains efficient, safe, and ready to keep you cozy all winter long. 
When it's time to contact an HVAC expert, remember that Blue Flame can help you maintain your equipment throughout every season. While some steps can be performed independently, let the professionals handle complex tasks as part of your next service to ensure clean equipment and proper functioning. Call 206-388-5667 to schedule your service and prepare for the cold season.
The Importance of 
HVAC Fall Maintenance
Proper fall HVAC maintenance ensures your system is working at its peak efficiency, saving you money on energy bills and helping you avoid unexpected repair costs. Moreover, regular maintenance and professional services help extend your equipment's lifespan and safeguard your family's comfort and health during Seattle winters. 
5-Star Google Review:
"I had my yearly maintenance done today. Ben Kibler was great! He was on time, considerate and friendly with me and my sons. He reviewed how my mini split looked after cleaning them and made recommendations. Overall, a great experience!" – Holly Hintz
Your 
Fall HVAC Maintenance Checklist
: Air Conditioning
As fall approaches in Seattle, we transition our focus from cooling to heating. But before you do, your air conditioning unit needs some attention to ensure it's in top shape for next year. Here's your fall HVAC maintenance checklist for air conditioning:
Clean Evaporator and Condenser Coils

: Over time, dirt and debris can accumulate on these coils, affecting the efficiency of your system. Clogged coils can make your unit work harder, resulting in higher energy bills and reducing the lifespan of your equipment.

Check Refrigerant Levels

: An incorrect refrigerant level can make your air conditioner inefficient and increase energy costs. It's vital to adjust the levels to the manufacturer's specifications.

Clean and Adjust Blower Components

: Proper airflow is crucial for the efficiency of your air conditioning system. A misaligned or dirty blower can affect this airflow, reducing your system's efficiency by as much as 15%.

Clear Outdoor Debris

: Ensure the area around your outdoor unit is clear of leaves, trash, and other obstructions that could affect its performance.
While some of these tasks might appear simple, a small mistake can lead to significant complications. That's why we recommend calling Blue Flame Heating, Air, & Electric for comprehensive HVAC fall maintenance service for your air conditioning.  
Your 
Fall HVAC Maintenance Checklist
: Heating 
Even with Seattle's mild climate, you still need heat in the winter, so ensuring your heating system is in optimal condition is crucial. No one wants to deal with a heating breakdown during a cold snap. Avoid potential problems down the road by using our fall HVAC maintenance checklist for heating:
Inspect Gas or Oil Connections

: Loose or corroded connections can leak, posing a significant fire risk and potential health hazards. An inspection will determine whether any lines need tightening or replacing.

Check Burner Combustion and the Heat Exchanger

: An improperly operating burner or a cracked heat exchanger decreases your system's efficiency and poses serious safety risks. Issues like these can lead to the dangerous release of carbon monoxide into your home.

Change the Filter

: This might seem trivial, but a clogged filter can seriously impede airflow, forcing your system to work harder and, consequently, increasing your energy bills. Changing the filter every few months, or more often if you have pets or smokers in the home, can improve the air quality and extend the life of your system.

Inspect Safety Devices

: Your heating system likely comes with various safety devices like flame sensors, pressure switches, and limit controls. These need to be inspected and tested to ensure they are functioning correctly.
Professional intervention is often required to perform most of these tasks accurately and safely. Incorrect handling can lead to inefficiencies, increased costs, and even pose safety risks. For thorough and professional HVAC fall maintenance for heating, we strongly recommend calling in the experts at Blue Flame Heating, Air, & Electric to ensure that you and your family stay warm and safe this winter.
Other Fall Maintenance To-Dos to Consider
Beyond HVAC, there are other critical aspects of home maintenance you should not overlook this fall. Other items to consider adding to your checklist include:
Electrical System Check

: Blue Flame Heating, Air, & Electric also

 

specializes in electrical services

. Ensure your wiring, circuit breakers, and electrical outlets are in perfect condition.

Update Thermostat Settings

: Programmable thermostats can be adjusted to save energy when you're not home, reducing energy bills.

Deep Clean Your Home

: A thorough clean can reduce the amount of dust and allergens in the air, improving the efficiency of your HVAC system.
Taking care of these additional tasks enhances the comfort and safety of your home and optimizes your overall energy usage.
Don't Get Left in the Cold: Choose Blue Flame Heating, Air, & Electric for Your Fall HVAC Needs
As you prepare your home for the colder months, remember professional help is just a call away. When you choose Blue Flame for your fall HVAC maintenance, you're not just opting for excellent service but investing in peace of mind. Our highly skilled technicians have the expertise to ensure your HVAC system is efficient, safe, and ready for the season. 
We're so confident in the quality of our services that we stand behind our work with our service guarantees. Plus, you can take advantage of our special offers to get more savings on our services.
Ensure a cozy, efficient home. Call us today to schedule your next service at (206)-388-5667 or book an appointment online now.
Last Updated: November 14, 2023